WHERE: STAND A02-19, Oslo Spektrum, Sonja Henies plass 2, Oslo. Read more at Art:Oslo >>
WHEN: 18–19 September 2010. Open Saturday and Sunday 10:00–18:00. Art duel Saturday 13.00.

ABOUT THE ART FAIR: The exhibition is aimed at art buyers and art lovers of all ages, where they will meet the artists and hear about their ideas and the work that lies behind their artworks. The artists decide all activities in the stage and cafe area, such as auctions, painting competitions etc. for the art interested public.
AT THE STAND: Oil paintings, photos and the exotic kubbestol!
COME AND SEE MY CRAZY KUBBESTOL: My boyfriend's grandfather was a handy man, and one of his doings was a traditional kubbestol, made of a whole pice of wood. We dug it out in my boyfriend's uncle's storage room - dusty and unfinished. After some rounds with sand paper I covered it with white and now the exciting part starts. I want to decorate it. Paint it. Not with a traditional Norwegian rosemaling, but with my own pattern. So called Darija's kruseduller. I think it is an interesting combination of old and modern. Come to Art:Oslo to my stand, and see how this experiment will turn up!

PURCHASE: If you wish to buy Darija's art, please take contact by mob. no.: 932 91 606 or by e-mail darija(at)darijasart.com. If you want to get a price list, send an e-mail with PRICE LIST, PAINTINGS in the subject line. Thank you for your interest!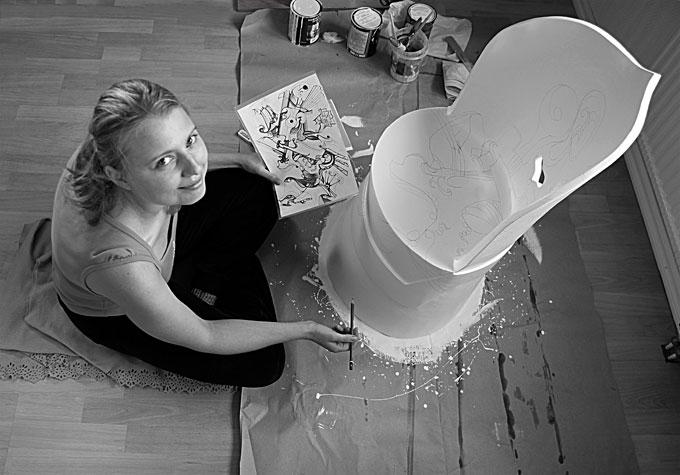 Today I started with the composition. Exciting, how it will end up.
This I can tell for sure: it is NOT a traditional Norweigan kubbestol!